While internet usage has increased exponentially during COVID-19, it has also caused search traffic to business websites to drop significantly across many industries. Does this mean focusing SEO is pointless for your business in the current business climate? Absolutely not. In this article we take a look at the case for and benefits of SEO for small businesses through the lens of COVID-19 trends and behaviours. In this article, we'll cover:
The effect of COVID-19 on search traffic.
Why SEO matters during the COVID-19 pandemic.
Why SEO is still important for SMEs (small to medium enterprises).

It may seem like you're up against some pretty stiff SEO competition during COVID-19, but SEO is not useless right now.
The impact of COVID-19 on search traffic
You may have heard people say that SEO is important right now because internet use is the highest it has ever been. The first part of that statement—"SEO is important" —is true, but the reason why needs some more investigation. Let us explain: Yes, internet use has increased significantly during this pandemic, however, "internet use" does not refer solely to online search. In addition to search, it includes a wide range of activities such as electronic transfers, virtual meetings, gaming, movie streaming, mobile apps, social media, and more.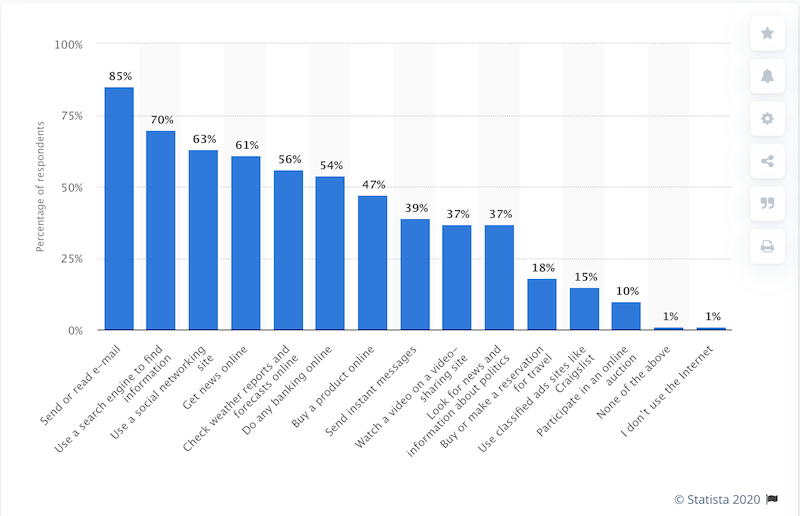 This chart from Statista (published pre-coronavirus) shows us that internet use includes more than online search.
That is not to say that online searches have dropped. In a time marked by so many questions and a significant spike in at-home activities, search volume has increased, but with a focus on health, news, and other highly relevant industries.
This has caused a decrease in traffic to non-essential or pandemic related business websites (many of which are small businesses)—from both paid and organic results.
This means that SEO looks different depending on the industry you're in.
For relevant and essential businesses, SEO is important for standing out and being chosen over competitors in search results.
For non-essential businesses, SEO seems a lot less important—hopeless, actually.
But SEO is important, essential even, for the long-term survival of all SMEs during this pandemic and beyond.
Why SEO matters during COVID-19
While there has been a lot of misinformation floating around, many facts remain that highlight the importance of SEO despite declines in search traffic.
Fact #1: COVID-19 is trending
It feels like it's been forever, and yes, it will have long-term effects, but no, coronavirus will not dominate search traffic forever. Your customers' evergreen questions (or FAQs), on the other hand, will remain relevant long after COVID-19.
This is not to trivialise COVID-19, it is still a very big and serious topic, however, over time, it will subside.

While still a serious and global issue, the decreasing volume of the search term "COVID-19" reminds us that it is nevertheless a trend.
Fact #2: Evergreen content is still key
It's good to write about trending/popular topics as they relate to your business, but these pages will naturally decline in traffic over time. They are also less likely to produce great results in the first place, because leading brands and high authority websites will rule page one results. Content written that answers Frequently Asked Questions for your industry will always stay relevant and accumulate traffic over time. It's never a bad time to create content on evergreen topics.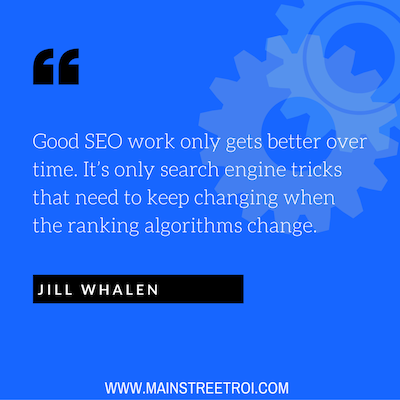 Fact #3: Quality traffic, not just quantity
The purpose of SEO is not simply to increase website traffic but to increase qualified traffic. This means that visitors who are finding their way to your website in the face of opposing trends are most likely very interested in what you have to offer. In this sense, SEO can help you identify highly qualified leads for your business.
Fact #4: SEO is important for long-term gain
SEO goes hand in hand with consistent digital marketing efforts. The aim is to gain the trust of search engines, over time, so that your business will rank more highly when searched. Content creation and paid advertising are key to making significant traction with SEO, but the results of your hard work may take up to three months to appear. Never fear, there is plenty you can do right now to work on your SEO.
Fact #5: Appearing in search is now more important than ever
Web traffic driven by search engines may have temporarily dropped, but traffic to search engines is skyrocketing. Instead of tuning into traditional media such as radio for updates, people are turning to Google. This goes for older generations who would traditionally use word of mouth communication. Thus COVID-19 is building a reliance on search platforms, making SEO an even more critical endeavour for your business going forward.
Why SEO so crucial during COVID-19
Let's take a look at why it's become even more important for small businesses to jump on the SEO bandwagon, as we navigate our way through the fallout of COVID-19.
Local search is vital
With so many important business operation updates and the fact travel is now restricted, local search optimisation is crucial to help you appear in detailed searches such as "open now" and "near me". Even if your services are restricted at the moment, it's still important to optimise your business to direct people to alternative online services and deliver snippets of information such as re-opening dates. This all helps to ensure you are not forgotten beneath the pile of digital marketing out there.
People are looking to support local
In the midst of COVID-19, there has been an overwhelming movement towards supporting local small businesses. By ensuring your business information is up-to-date and consistent across your website and social platforms, you can make it as easy as possible for customers to find and support you.
SEO puts your small business head and shoulders above the rest
Getting consumers to become customers often takes multiple encounters. By publishing informative blogs as part of your SEO strategy you are doing more than informing or updating; you are working to build trust and familiarity with your brand.
SEO is affordable
Now is the time to invest in SEO for your business, whether that means investing your own time, or enlisting the help of SEO experts like us! In order to be effective you must have an SEO strategy and stick to it. That's where MRD comes in – with advice, knowledge and expertise to help you get started, and keep the ball rolling.
SEO tactics for your small business
So, we may well have convinced you that SEO is the essential tool you're missing for your small business right now. But, one question remains… where do you start? Here are a few tips to get you going today:
Write and stockpile high-quality, evergreen blog posts
Target search terms that relate to local searches i.e. include the names of areas you service in your article as well as search terms for topics that are always relevant in your industry
Conduct a local listing audit to see where you rank in comparison to your competitors
Create or update your Google My Business listing.
Get featured in a local media article which links to your site
Update content that has performed well in the past
Make SEO a priority during COVID-19
Make SEO a priority, today
There is no "bad" time to publish evergreen or long-life content – just make sure you start doing it.
The visitors you do attract right now are likely to be highly qualified.
SEO gains won't start paying off right away, it may take three to six months to see the fruits of your labour– so be patient and don't get disheartened.
Search platforms are the "go to" tool, now more than ever before.
SEO is especially important for small businesses at the moment because:
Travel restrictions mean consumers are more likely to seek out nearby businesses.
Consumers are looking to support small and stay local.
SEO is the means by which SMEs can stand apart from competitors.
It is easy to get started, and you might just have the time.
SEO may be a potential solution for businesses who have been hit hard financially by the slower pacing of COVID-19. It can help you to become more visible on searches being performed now, and also to set you up for success once search behaviour returns to normal. You can contact us today to learn how we can help your business with a solid SEO strategy, or complete an SEO audit on your website. We can't wait to show you how effective this can be, and to get better results, together.
Three Top Tips to increase your online presence
Tip One: Local Listings
Check your Google My Business listing: these listings show when people are looking in Google Search and Maps and are a free and easy way to show your business to local customers. Your Google My Business listing is also important for your search engine ranking (how high up you appear when someone searches for your services/products in Google). Ensure you have entered information about your business, your services, check your location is correct, opening hours are current (if applicable) and keep your images up to date.
Tip Two: Fresh Website Content
Add fresh content to your website regularly; this could be a newsletter/blog, updating your services information, updating/changing your about page information, ensure your team page is up to date and if you don't have them, maybe add bios that include search terms specific to your industry.
Tip Three: Google Ads Check In
If you are managing your own Google Ads, check your budget as competition for keywords may have changed in your industry. Add negative keywords to avoid wasting ad spend and ensure you have extensions set up for both your phone number and location. Remember: Google Ads are not a set and forget option, they need to be regularly managed and optimised to ensure spend isn't wasted on irrelevant search. If your Google Ads are managed by us, don't worry – we check in on and optimise your account for you every week!
For help with implementing any of the above, contact us on 06 390 4300 or helpdesk@mrd.co.nz.