Tips to keep customers informed
1. Utilise your social media channels
Traffic to social media channels has increased significantly as people look to the social space to stay informed. This makes it a fantastic place to get any key messaging across and engage with customers/clients directly.
We have created a few social media images that you can download from our website for free to use on your social media channels. You can visit this link and download any of the images you would like to use.
Once you have downloaded the image, applied it to your social media post and written a message that is relevant to your business operations at this time, we recommend you 'Pin' the post to the top of the page so your customers can quickly find this information.
How do I 'Pin' a post to the top of my Facebook page?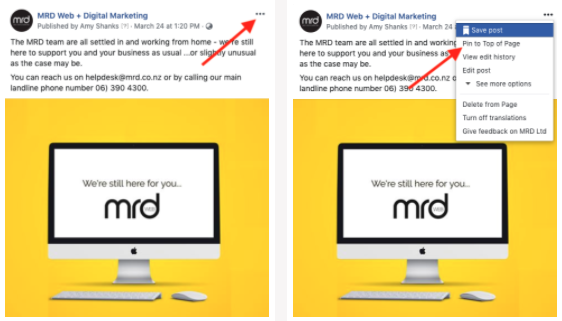 2. Add a Facebook feed to your website
A Facebook feed on your website is another great way to keep your customers informed about what is going on in your business/organisation.
Not only is it a great way to reach more people with important messages, but it is also great for improving your website performance. You can increase the time visitors spend on your website, by offering them more content to engage with.
Here are some examples of our Facebook feeds:
3. Send a newsletter
Keep it brief and informative, we're all having our inboxes swamped while navigating the next few days.
4. Add a pop-up or notification to your website
This will help people quickly find information on how recent changes may affect their engagement with you and how they should proceed.
If you would like us to create a notification on your website, email our helpdesk with the subject line 'add website notification', and please include what you would like your notification to say.
Example 1: Website Pop-up
A website pop-up will pop up and appear in the middle of the page. The website visitor will dismiss this by clicking 'dismiss' or the 'X'.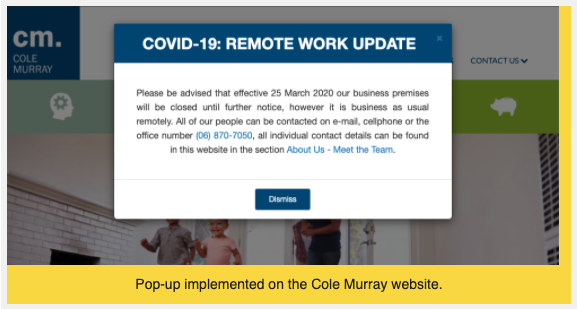 Example 2: Site-wide Notification
A site-wide notification will remain present on every page of the website until a user dismisses it by clicking on the 'x'.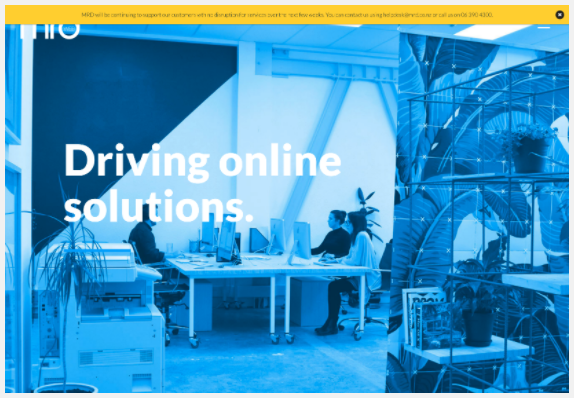 Keep in contact
At this time many of your customers may be feeling overwhelmed – if you feel you can have a positive impact and be of assistance, reach out – let's support one another.